ISO 17100:2015 and 18587:2017 Certified
OUR COMMITMENT
TO QUALITY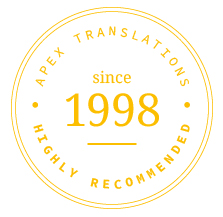 Our Quality Guarantee Program
Choosing a translation service provider to translate and localize your corporate documents may be a major decision for your company that can have significant consequences. As such, it is vital for your business to opt for a vendor that has a proven track record, is trustworthy and reliable, and will stand behind their work – every time. We understand this as well as the importance and value of providing the best possible customer experience. That is why some of the world's largest global companies rely on us to manage their localization requirements. Quality, efficiency, and accuracy are the core of our philosophy and our processes.
To this end, we offer a quality guarantee that is designed to eliminate any potential hazards that could undermine the quality of your projects. This program provides an extra level of confidence and convenience in knowing that you have a reliable and flexible partner for all your language needs. Our Quality Guarantee Program comprises the following elements:
Translation quality guarantee:

We use the SAE Recommended Practice J2450 (Translation Quality Metric) to guarantee our quality. This SAE practice is a consistent and industry-wide recognized method for measuring translation quality. It allows an accurate determination of an Overall Document Weighted Score (ODWS), which is a quantitative assessment of a translation`s overall quality.

Using the SAE practice J2450 as the basis, we guarantee that none of our translations provided to our clients will ever exceed an ODWS value of 0.02. In fact, over 95% of our translations are flawless or contain only minor errors

Guarantee of compliance with specific project requirements including the application of preferred industry-specific terminologies:

Although our linguists are highly qualified translators and editors, as well as experts in the subject matter contained in your documents, they may not be aware of any unique corporate terminological preferences or specific project requirements your company may want to see implemented in the localization process.

We achieve this through collaboration with clients' reviewers. These discussions can occur prior to getting started or during the translation process. Sometimes circumstances require this collaboration to occur after we deliver the finalized project, which we gladly accommodate.

The entire process is designed to ensure that we fully comply with your company-specific terminology and other project-specific requirements, if necessary, through the preparation of and adherence to glossaries and style guides. This service also includes professional linguistic support that may be required to identify and implement optimum terminology and an appropriate localization approach for your project.

This service is provided at no additional cost.
The above quality guarantee rests on a foundation of quality processes that embrace everything we do to ensure that we meet or exceed your expectations each and every time you interact with us. This includes our employee training program, 6-Sigma tools and principles which we employ in our daily work, as well as the measurement of key work activities for the purpose of identifying areas that may require improvement.
Certifications:
To reinforce our Quality Guarantee Program and to ensure we adhere to industry-recognized criteria for quality, we have undergone the rigorous process of achieving compliance with the requirements of the international ISO 17100:2015 and 18587:2017 Quality Management Standards. These standards provide a formal framework for managing and improving our procedures and processes, and for continuously reinforcing our commitment to maximizing customer satisfaction.
Download our ISO 17100:2015 Certificate
Download our ISO 18587:2017 Certificate

"Quality Has to Be Caused, not Controlled."
– Phil Crosby, Businessman and Author

What Our Customers Are Saying
See what clients say about Apex's translation services, DTP, and localization services. As part of our ongoing commitment to improving quality, we have partnered with an independent review site to collect customer feedback.


Let's Get Started
Contact us to find out what our team can do for you.
"*" indicates required fields