ISO 17100:2015 Certified
OUR COMMITMENT TO
QUALITY AND VALUE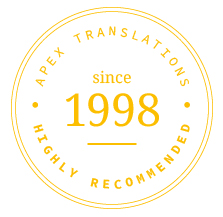 Our Quality Commitment
Our approach to quality embraces everything we do to maintain excellent quality, including
our employee training program, 6-Sigma tools and principles we employ in our daily work,
measurement of key work activities for the purpose of identifying areas requiring improvement,
and our IT structure.
Apex Translations, Inc., is certified to conform to the requirements of the international ISO 17100-
2015 and ISO 18587-2017 Quality Management Standards. These standards provide a formal
framework for managing and improving our processes, and for continuously reinforcing our
commitment to maximizing customer satisfaction.
Download our ISO 17100-2015 Certificate
Download our 18587-2017 Certificate

"Quality Has to Be Caused, not Controlled."
– Phil Crosby, Businessman and Author

What Our Customers Are Saying
See what clients say about Apex's translation services, DTP, and localization services. As part of our ongoing commitment to improving quality, we have partnered with an independent review site to collect customer feedback.

Let's get started
Contact us to find out what our team can do for you.
Problems uploading files?
If you encounter problems uploading your files, please complete and submit this form without your files. Once submitted, please use our
secure file transfer utility
to send us your files.
"*" indicates required fields