TRANSLATIONS TAILORED TO FIT YOUR NEEDS
Apex Translations is a team of experienced linguistic professionals providing a full spectrum of translation, localization and interpretation services.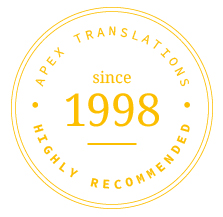 Connecting Businesses to the World for More than 25 Years
Apex partners with thousands of businesses worldwide to provide fast and accurate translation services at competitive prices. Our proven expertise in the fields of translation and localization gives your company the competitive advantage necessary to effectively manage your business in any market and reach your target customers.
Specialized Translation Services for Your Industry
To achieve success in your global business endeavors, it is essential to utilize accurate and industry-specific language. Regardless of your industry or the language spoken by your target audience, Apex can provide you with the necessary expertise to prepare your content for any region across the world. We can equip you with the competitive advantage required to bridge the gap between you and your international customers, by utilizing a blend of professional terminology and innovative content tailored to your particular industry.
Let's Get Started
Please let us know how we can help you with your next translation project by completing our quote form below.
"*" indicates required fields
You can also reach us via e-mail at CustServ@apex-translations.com or by giving us a call at 800-634-4880. If you would like for us to call you back, please click the button below.
Request a Call Back