PROFESSIONAL TRANSLATION SERVICES
Certified to Comply With Industry-Specific ISO Quality Standards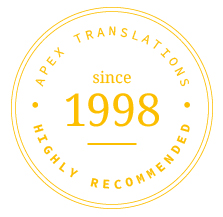 Connecting Businesses to the World
for More than 25 Years
Apex partners with thousands of businesses worldwide and utilizes state of the art technologies to provide fast and accurate translations at competitive prices. Our proven expertise in the fields of translation and localization gives companies the competitive advantage necessary to effectively manage their business in any market and to reach their target customers.
We are a trusted provider of document translation services and are certified to meet the industry-specific ISO-17100 and ISO-18587 quality standards. In addition to providing translation services, we offer editing, desktop publishing, graphic design, and multimedia solutions. If you are interested in finding out what Apex can do for your business, please contact us and we'll be happy to consult with you.
Specialized Translation Services
for Your Industry
The use of correct, industry-specific terminology is vital to your global business success. Regardless of your industry or the target language, Apex has what you need to make your content ready for any audience – anywhere in the world. We will give you the competitive edge to close the gap between you and your global customers through the right combination of professional terminology and creative content specific to your industry. Quality at an
Outstanding Value
Apex is Certified to the ISO 17100:2015 and
18587:2017 quality standards and our QA processes
combined with the application of advanced translation
and management tools ensure that your translations
will always be accurate and consistently reliable for any
global market. Let's Get Started
Contact us to find out what our team can do for you.
"*" indicates required fields